hppav wrote:
Hmm, if that is the Geo Plant wall then my hypothesis is correct, due to how small it appears from the second ditch... and that little dark grey line might have been the original road texture in this area, matching it with the road in my Pine Valley Bug Fix (which is correctly positioned using the TPV image). Keep in mind my terrain editing here isn't perfect, I had flattened that ridge and relocated the stream to where it was supposed to be.

I had forgotten you moved the first ditch when I made that comment, later when I looked at the PV level myself I ended up arriving at almost the same location as you did (Location 751.3, 1214.3, 27.7 and Facing -0.4, 0.9, -0.2).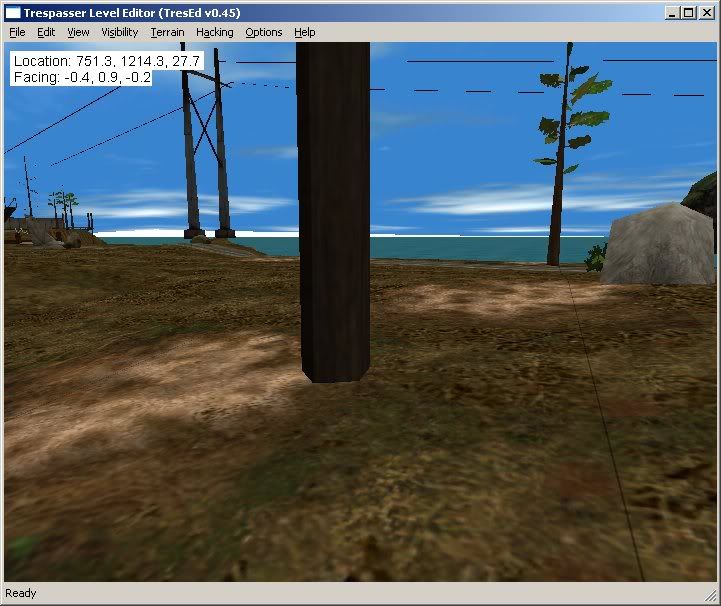 And yes, I also think that's the old road texture , too.
hppav wrote:
If that is true then there appears to be a fork in the road (hard to tell), and if that is true then it fits a hypothesis I've been working on:
I had to raise that stump to see it since the terrain is so messed up in that area.
I'll take a look at that...
hppav wrote:
Oh and here's the outside/stairs area:
The View Building would be just out of frame to the right. Keep in mind that the pylons weren't set in their proper locations yet, the one image of the View building that shows a pylon, when I tried to recreate that it ended up being 5 feet off the ground.
Yes, that's more or less the spot for that area in relation to the View building... as I said, I have to take a look at my old stuff.
What I had found long ago is that this pic is from the end of the level (Shore, now), with the Docks gate right behind.
I think the View building can be seen in the distance...
_________________
Visit
The Carnivores Saga
- a forum devoted to modding Action Forms'
Carnivores
,
Carnivores 2
and
Carnivores: Ice Age
games
Tres WIP: updated
T-Script Reference
and
File Formats
documents
Sound name listings for the
Demo (build 117)
,
Retail (build 116)
,
Beta 103
,
Beta 99
,
Beta 97
,
Beta 96
,
Build 55
,
PC Gamer Alpha (build 32)
and
E3 1998 Alpha (build 22)
TPA files