tatu wrote:
In the retail the music "MUSIC - CRASHED HELICOPTER" is located at the coper crash site. But in the beta is located at the easter egg "The Monolith"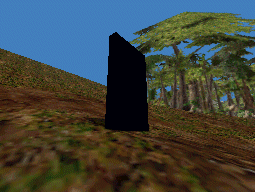 Draconisaurus wrote:
Fascinating.. Maybe very early on, the heli crash was intended to be the easter egg at the end of this winding path up the mountainside? Even though, we do have some pre-build96 pics which show it in the old IJ2 region, rather..
_________________
"...there used to be more benches, but InGen's workers removed them during the evacuation in the name of

framerate

."
"The main laboratory and administrative buildings. This is where we made our work, where the real magic trick happen. When they are in need of height fixing, they'll come here." - Hammond